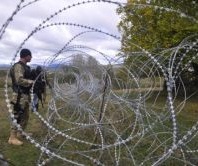 TBILISI, DFWatch–A 17-year-old Georgian who was detained Friday by Russian soldiers patrolling the border of South Ossetia was returned on Saturday.
Joni Gogichaishvili's return was confirmed by the European Union Monitoring Mission to Georgia (EUMM), which wrote in a statement that his 'release […] was facilitated by the EUMM through exchange of information and dialogue between security actors on both sides of the ABL,' using the abbreviation for the the administrative boundary lines, another word for the border.
EUMM wrote that Gogichaishvili was 'detained near Gduleti in the afternoon' on Friday after allegedly having crossed the border.
In a brief comment to journalists he said that he was on his way to the church in the village Bershueti with his schoolmates, and there are no signs or other border markers in that area.
"I walked behind my friends and three armed people approached me. I don't know if I actually crossed the so-called border or not, but those men told me that I violated the border and detained me," he told Interpressnews.
Gogichaishvili was not subjected to violence during his detention and was asked few questions. He was first taken to the nearest military base and then to the detention facility in Tskhinvali. After paying the standard fine, or about USD 30, he was released.