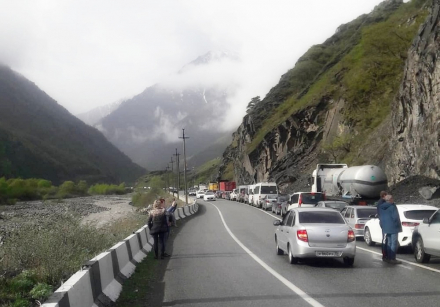 TBILISI, DFWatch–The number of visitors from Russia to Georgia has skyrocketed, triggering several kilometer long lines at Zemo Larsi border crossing.
Most of the queue is on the Russian side, where at least 600 cars were standing still Saturday, waiting to enter Georgia from North Ossetia – Alania; one of the constituent republics of the Russian Federation.
There are problems on the Georgian side as well, prompting Ministry of Internal Affairs staff to work extra shifts.
The queue was 10km long on Friday and grew to 13km Saturday. Travelers with smaller vehicles have to wait for about 10 hours to cross the border.
The increasing number of visitors to Georgia related to the start of the tourist season and the May holidays in Russia.