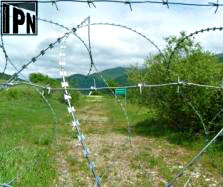 TBILISI, DFWatch–117 persons have been detained by Russian soldiers so far in 2013 close to the so-called administrative borders with the breakaway regions Abkhazia and South Ossetia.
According to Institute for Development of Freedom of Information (IDFI), 1 110 Georgian citizens have been illegally detained by Russian soldiers from 2009 until June 2013, based on official data from the Interior Ministry. 474 of them were detained at the so-called border with de facto South Ossetia, while 636 were detained close to Abkhazia.
In 2013 alone, 117 persons have been detained so far, but Minister of Reintegration, Paata Zakareishvili says the new government manages to get citizens released sooner than what was the case earlier. Still the increasing number of detentions is concerning, he underlined.
Zakareishvili told journalists Wednesday that a working group has been created to work for a month on current problems close to the so-called administrative border. Appropriate government bodies will engage to solve problems outlined by the working group.
"We have already studied problems of those villages and population there and we are ready to move to the next level, send instructions to the ministries, also proposals and recommendations, what they can do and also to define a budget so the Finance Ministry can allocate money for it," the minister said.
Zakareishvili noted that there has been an increase in the number of detentions of the Georgian citizens by Russia and he thinks the increase is caused by the border being moved.
Six Georgians currently remain in detention in Tskhinvali.
At the end of May, Russian border guards moved the so-called border 300 meters into Georgian-controlled territory at the 25 km perimeter. This has left several families and houses on the other side of the installed wires.