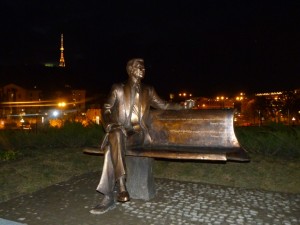 TBILISI, DFWatch – The Georgian capital marked the anniversary of the rose revolution in 2003 and twenty years since the collapse of the Soviet Union by unveiling a bronze statue of US president Ronald Reagan today.
"He brought about the collapse of the Soviet Union and freed the lives of thousands of people. So he now more than ever deserves his own place in the center of Tbilisi and in the heart of Georgia," President Mikheil Saakashvili said at the unveiling ceremony.
"Because Georgia is also his achievement and the conductor of ideas, supporter of an ideology, which Reagan had been conducting all of his life," the president said next to the bronze statue showing Ronald Reagan sitting on a bench.
Today is also Saint George's day, one of Georgia's patron saints.
The statue was made by Georgian sculptor Avtandil Monaselidze and is located in the old district of Tbilisi, on the bank of the river Mtkvari, in a newly reconstructed green lung called Rike Park.  There is  enough space on the bench next to Reagan's statue for people passing by to sit down and take a photo of themselves with the USA president. It also has an inscription with a quote from Reagan: 'Freedom is never more than one generation away from extinction.'
It's not the first time Georgia honors an American president. In 2005 a street not far from the center of the capital was renamed George W. Bush Street after the 43. US president.