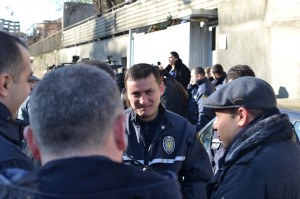 TBILISI, DFWatch – The producer and core personnel at Maestro were still holding out Thursday morning, marking 24 hours of the siege of the TV station.
The outside perimeter and the building's first floor are besieged by police and members of a private security force loyal to the station's manager, Erosi Kitsmarishvili, who says he he has ordered them to lay  the studios under siege and prevent anyone from entering, until producer Mamuka Glonti leaves the premises. Then the siege will be lifted, he promised Wednesday.
Mamuka Glonti warned on his Facebook page and on air late last night that he feared the studios would be stormed during the night if not enough supporters showed up to bear witness. A small crowd heeded his call and stayed there overnight, in the early morning also joined by former Public Defender Sozar Subari, who said the police siege is 'clearly unlawful'.
Thursday morning Kitsmarishvili stepped up the pressure on Maestro as he warned that if Glonti does not come out of the studio today, he will 'use force' to get him out. Glonti responded that the threat of force would not make him change his mind, and stays put.
The siege of Maestro started after Bidzina Ivanishvili, a popular newcomer in Georgian politics, appeared live on Maestro Tuesday night. Kitsmarishvili promptly asked to assemble the TV station's journalists to talk about their editorial policy, on the premise that they were offering Ivanishvili too much air time. Journalists refused to meet with Kitsmarishvili, saying they are independent and will not take instructions from a politician.
This led Kitsmarishvili to fire three of Maestro's top people. When they didn't accept their resignation, a scuffle developed, and one Maestro employee called the police for help to evict Kitsmarishvili and his security detail, who had broken into the studios by climbing over the fence. But when the police arrived, they did not respond to Maestro staff's pleas, but instead sided with Kitsmarishvili and placed the studios under siege.