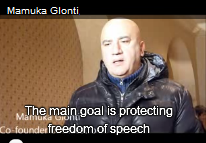 TBILISI, DFWatch – An attack on one is an attack on all. That's the principle for a new organization formed today by heads and representatives of several Georgian media units.
Within one week a working group will prepare a set of rules for how to coordinate a common response when attacks happen.
The initiative comes in the wake of the takeover of Maestro TV on November 30. The journalists and staff of the station have been evicted from their studios but keep on broadcasting from a makeshift studio originally meant for producing only radio.
Mamuka Glonti, co-founder of the independent TV station Maestro, announced the new unit at a protest rally Maestro journalists held last Friday to demand that they are allowed to return to their normal journalistic working conditions like it was 'before Erosi Kitsmarishvili's intervention.'
Glonti called for the heads of all media outlets to set up new media unit and this way 'an attack on one media unit will be perceived as an attack on all media outlets.'
At today's meeting, which was held at Tbilisi Marriott Hotel, it was said that after the rules are prepared another meeting will be held to elect a body which will coordinate the activities of the media unit.
"We will conduct all activities, permitted by law, which will bring results," Lasha Tugushi, editor in chief of the daily newspaper Resonance said. "The result is that we must care about freedom of speech in Georgia, because this is a very serious problem today."
Organizers say all media representatives and media units will be able to join the unit. Glonti made special reference to the government-friendly TV, saying they would also be protected under the new arrangement.
"To Rustavi 2, Imedi and Real TV I can give the same guarantees that if there will be illegal actions against them, regardless of whether they are member or not, and this will be done by Mikheil Saakashvili or other branches of government, this organization will raise its voice the same way as it would do for other media outlets," Mamuka Glonti told journalists after today's meeting.
I call for my colleagues to analyze in a right and healthy way the past events, because there was no solidarity, when more than 40 TV channels had been deprived from their owners, when Obiektivi also was deprived its television, we were practically alone and didn't feel the support from our colleagues," Irma Inashvili, chair of the media unit Obiektivi says, adding that it's really good that after eight years, such an organization is being set up, and they support it.
"But I'm saying that the free media needs protection today; not only from the government, but from the so-called opposition and from the opposition too, because there is an intervention in the media's activity very often," she said, explaining that there is an intervention not only from the government, but from the opposition too, and the unit should react to all kinds of intervention.
Members will meet next on December 26 at the office of Obiektivi.