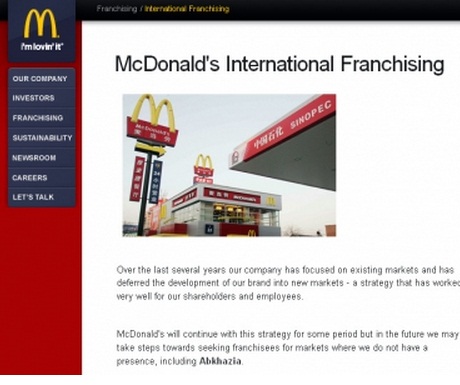 TBILISI, DFWatch–A statement by McDonald's that it wants to open a branch in the disputed Georgian region Abkhazia has caused strong criticism in Georgia.
Temur Chkonia, representative of McDonald's in Georgia, says the statement will be removed from the official McDonald's website on Tuesday.
He said this after reports on Monday that McDonald's recognizes Abkhazia and plans to enter that market.
More than 300 000 Georgians and people of other ethnic origins were expelled from Abkhazia in the 1990s and have not been able to return to their homes since.
Abkhazia has a strong Russian military presence which Georgia considers an occupation, and its de facto government is controlled by Russia. Most of the international community does not recognize Abkhazia as an independent country and international companies cannot enter the Abkhazian market without permission from the Georgian government.
Monday, it was reported in the media that McDonald's plans to enter the Abkhazian market. The source was a message on the official website of the company www.aboutmcdonalds.com which read the following:
"Over the last several years our company has focused on existing markets and has deferred the development of our brand into new markets – a strategy that has worked very well for our shareholders and employees. McDonald's will continue with this strategy for some period but in the future we may take steps towards seeking franchisees for markets where we do not have a presence, including Abkhazia."
The statement described the requirements for persons who would like to represent the company in Abkhazia.
"If we proceed with our development plans in Abkhazia, we will give fair consideration to all candidates and will contact those individuals who best meet the requirements we seek in a franchisee for the first phase of the selection process."
McDonald's entered the Georgian market in the late 1990s. There are currently four restaurants in Tbilisi, one in Kutaisi and one in Batumi, and there are plans to open several more branches in the country.
"They got concerned that it was incorrectly interpreted and they promised to inform about the issue to the manager of the website to remove all this information," Chkonia told journalists on Monday.
Chkonia says he has a special and stable contract with McDonald's and it is impossible to construct a new branch of the company on Georgian territory without his permission.
"Even if there was some map where Abkhazia would have been independent, still construction of new McDonald's will require my permission," he added.