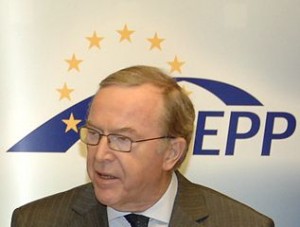 TBILISI, DFWatch – Belgian veteran politician Wilfried Martens says he supports the party of Georgian president Mikheil Saakashvili, the National Movement.
Wilfried said this Wednesday on a news show on one of the Georgian national networks.
During their conversation, President Saakashvili said his movement is not dependent on persons, and that he will keep on as long as he is able to make a contribution.
The president said his strongest opponents are forces from the past; what he termed 'neo-shevardnadzists', alluding to the name of former Georgian president Eduard Shevardnadze.
The National Movement has observer status in the European People's Party, which Martens co-founded in 1976.
The EPP is a center-right political party which works towards a further deepening of European integration, primarily through the EU.
(Image shows Wilfried Martens, co-founder of the European People's Party.)