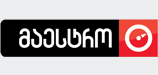 It might sound like stating the obvious when a TV company markets itself by saying 'we are the ones who don't lie to you'.
But in Georgia, it is not a given that TV don't fabricate news. It is actually the easiest way to set yourself apart from the current national networks.
Georgia has in recent years been criticized for the situation in the field of television. All three national stations are today widely seen as loyal to the government with a narrow style of reporting not covering the full range of what is happening in society. What more is, they sometimes air things that are simply made up.
In such an environment, to not lie is the way to set you apart from the others. Maestro TV has been picking up on ongoing events in the capital, and gradually over the whole country, under the slogan that it is the station which doesn't lie and is only controlled by its viewers. Journalists have vigorously defended the motto of being independent.
It was for a long time run with little resources and showed the signs of it, but two years ago accepted a proposal from former Moscow ambassador and, of recent, opposition politician Erosi Kitsmarishvili to let him have management rights over the TV company for three years, in return for an influx of new funding. This allowed for a technical face lift, bringing it beyond its former cable TV appearance.
The last two years it has been alone in exposing a number of significant developments, often reports made by external production companies but aired on the channel. The situation in the prison system is one concern it has followed up relentlessly. Georgian prisons have seen a worrying rise in deaths among inmates, with indications that the victims had been tortured, a problem not reflected in the national networks.
It has also been shining the spotlight on the social hardships of the broader population, as high unemployment and rising prices have made their impact on daily life, also something not covered by the national networks.

Maestro has also exposed how the national networks are working in tandem with authorities, and as such been an irritant to both. The Georgian president regularly holds live TV sessions with Imedi, Rustavi 2 and the First Channel, during which the leader has frequently been allowed to put forth his political rhetoric unhindered. Maestro has shown that the reality behind these exercises is often radically different from what the three big stations make it out to be.
At one such session, the president opened a new water supply in a village. It turned out that the water supply was not in operation and water had been brought up by fire trucks for the broadcast.
Another of the Georgian leader's TV sessions celebrated the opening of a new bridge on the Black Sea coast close to Abkhazia. Maestro later revealed that the bridge was dismantled after Saakashvili's TV appearance.
Recently it exposed the plight of residents on one of Tbilisi's oldest streets, today called Agmashenebeli Avenue, but also known as Plekhanov. After a hectic reconstruction was celebrated by the president, who claimed that the street is now one of Europe's most prestigious districts, it emerged that the refurbishment has only been done on that section of each house facing out towards the street, that the process does not conform with standards for maintaining historical buildings, and that some of those who live inside have had their apartments damaged as constructions workers have intruded in order to refurbish the building's facade.
Maestro has struggled to establish national broadcasting, but have not been allowed on to the ground-based transmitting system, and several cable companies both in the capital and the regions are not carrying them. In early 2010 it became available via satellite, and an internet broadcast is also an option, but internet is not in widespread use in Georgia. The station currently has a frail distribution scheme in place, by internet and satellite, which nevertheless sets in on the verge of becoming a viable competitor to the three big networks.

In that quest, it has one advantage: In contrast to the national networks, Maestro does not lie. At least that is its motto. While some claim it is pro-opposition, it has not been shown to broadcast direct lies, which the national networks have on a number of occasions. Rustavi 2, being the worst, was the topic of a UN report which noted that before the war in 2008 it had escalated tensions near the Abkhazian border by putting out manufactured news stories.
Perhaps most well-known was a shooting incident near the Abkhazian border on election day May 2008. Rustavi 2 had rigged their cameras on a football field in waiting for two minibuses with Georgians on their way to vote. When the buses came, a detail of Georgian forces, also waiting nearby, opened fire on the buses, using mortars and small arms. Rustavi 2 then moved into the shooting scene, producing spectacular close-up footage of panicking civilians taking cover as the bullets flied by. The images were shown on all the networks, and President Saakashvili quickly claimed that the shooting had been done by Abkhaz forces to disrupt the election. His account was refuted the same day by a group of human rights observers from the Norwegian Helsinki Committee who happened to be in the vicinity and investigated just hours afterwards.
Also near the other breakaway region has Rustavi 2 been exacerbating the tension by putting out direct lies. In 2009 a bomb went off just before one of the regular Georgian-Ossetian field meetings meant to defuse tensions and hosted by the EU's observer corps, EUMM. Rustavi 2 reported that the bomb had gone off 'near' the site of talks and right before the EUMM cars drove by, mixing into the story a quote from EUMM's head officer who said the bomb was a provocation. But in fact, the bomb did not go off near the meeting. It went off on the other side of the Tskhinvali region, about thirty km away. This story looked believable, and was carried, perhaps by a sleight of hand, by Radio Free Europe.
In the wake of the protest wave in the summer of 2009, the government reorganized one of the two public TV channels within the state broadcaster called Channel Two and linked it to a special memorandum signed by parliament. Advisors were brought in from the British Broadcasting Corporation in the start-up phase. The government claims that the reorganized Channel Two is modelled on the American live politics channel C-SPAN and the BBC's Parliament channel, but its coverage is never live except when showing parliamentary debates (Universal Periodic Review, 2011, A, 50.).
Most of the day it is sending travel guides and TV series, and at night it is showing films, with the politics mostly during evening hours. It still has improved the overall coverage of political events in general. It also has an open microphone slot which lets alternative groups talk directly to the viewers. But sometimes the reporting is edited, as seen in a debate in parliament recently.
As reported on DFWatch, a bank owned by political newcomer Bidzina Ivanishvili was subject of a police raid and subsequent investigation for money laundering. When this situation was debated in a special committee meeting on November 17, a number of ruling party delegates who had not attended the meeting entered the room and started shouting at opposition politician Gia Tsagareshvili. The Second Channel edited out this most juicy bit which would have made popular Youtube clips if it had been let through.
When demonstrations started again in 2011, the Second Channel set up cameras at the site of demonstration, outside its own studios. Using powerful telezoom lenses it produced what was in effect a continuous surveillance feed. Most of the broadcast consisted of close-ups of the demonstrators' faces. Although of little political interest, it did show whether demonstrators were masked or armed, a topic of discussion at the time. In addition, it would have provided useful material for servicemen who were at the time preparing for a massive police operation against the same people on May 26.
Also Imedi is regarded as a government-loyal station — today. But it used to be independent. Several of the journalists at Maestro have a background from Imedi TV, which was seen both nationally and internationally as an example of independent reporting, until it was stormed by police in November 2007 and later taken over by a production company headed by president Saakashvili's former chief of staff, Giorgi Arveladze.
Under Arveladze's leadership, Imedi went on to produce what Time Magazine has called one of the greatest media hoaxes in history, when it in March 2010 reported in what appeared to be one of its regular news slots a fabricated report that Russia had invaded the country aided by Georgia's opposition leaders and that president Saakashvili had been killed. It caused massive panic.
Current producer and co-owner of Maestro, Mamuka Glonti, said Wednesday that he considers what is now happening a repeat of the takeover of Imedi. Some of his colleagues at Maestro experienced the police storming of Imedi November 7, 2007.