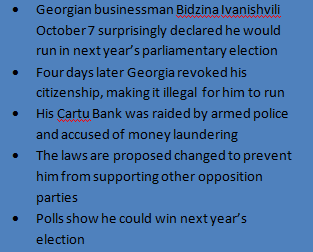 TBILISI, DFWatch – The government in Georgia is planning to make it illegal for human rights groups to let their criticism of the situation be used in party politics.
If they violate the rule, their funding will be restricted.
Businessman Bidzina Ivanishvili is doing well in the polls ahead of Georgia's election next year, but is confronting a growing list of legal obstacles that authorities are introducing.
Another one came Wednesday, when a new rule was proposed which will prevent independent organizations from getting entangled in party politics.
Much of the political discussion in Georgia comes from a large number of non-governmental organizations (NGOs). After the restriction comes into force, it will be illegal for them to let their reports be used by a political party. If they are caught, the government could restrict their funding.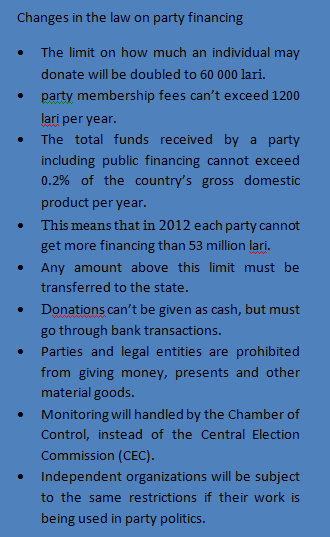 Legal expert Vakhtang Khmaladze says the new restriction is vague and gives a lot of room for interpretation.
The restriction comes as part of a law on party financing which has been given preliminary approval by parliament and is expected to be passed by the end of the year.
Commentators are warning against the consequences. Khmaladze explains that these restrictions will mean that if an NGO prepares a report and a political party uses this report in its campaign, the same restrictions will apply to the NGO as to a political party. This means that it will be illegal to finance the NGO, just as it would for a party. (see text box).
Legal persons won't be able to finance the NGO and the NGO won't be allowed to receive grants from international organizations. One organization which could be targeted by such a measure is the Georgian Young Lawyer's Association, which has frequently criticized the government's human rights record and relies on foreign funding. They would be forced to make sure that their reports are not being used for party political purposes.
From before there are plans to put restrictions on party financing that would prevent Bidzina Ivanishvili from funding parties through one of his companies. The only way a party can get access to large funding is by getting a bank loan. Mr Ivanishvili's bank is currently under scrutiny for alleged money laundering and is on the verge of bankruptcy due to yet another change in the law dealing with so-called hidden tax debt.
Many see the latest move as another measure by the government to stave off the progress of Mr Ivanishvili, who in two polls was shown to be slightly behind the ruling National Movement party in popularity and in one poll was the preferred candidate for prime minister, ahead of Mikheil Saakashvili.