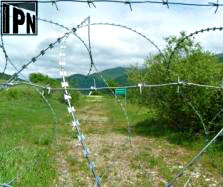 TBILISI, DFWatch–A man who was detained by Russian border guards Saturday was freed on Tuesday, after paying a fine.
Davit Khuroshvili, from the village Khurvaleti, bordering breakaway South Ossetia, was detained for violating the border. He was set free after paying the standard fine of 2,000 rubles, about USD 33.
Khurashvili told Rustavi 2 that he was standing in his own garden when Russian border guards detained him, and then he spent four days in a Tskhinvali detention facility.
He remembers how it happened. The  border guards ordered him to hold his hands high and not move.
"I stood there, what could I do? Or where could I run away from my own garden? They were armed," he recalls.
"They stepped on the barbed wire which they have installed, letting me go to the other side."
A representative of the de facto security service met them and took him to Tskhinvali, he continued.
After paying the fine, he was sent back across the border at Ergneti.