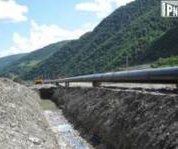 TBILISI, DFWatch–One of the men suspected of planning an act of sabotage against a natural gas pipeline in Georgia was questioned at the hospital on Tuesday.
Yesterday, lawyer Maia Chrelashvili said that her client was unable to attend a hearing in Tbilisi City Court. She said he had been severely beaten and had a fractured skull.
The court placed the other suspects in pre-trial detention, but Chrelashvili's client remained in hospital.
Later the same day, the State Security Service (SUS) claimed that he wasn't beaten during questioning, as his family claimed, but while resisting arrest. SUS said the hospitalized suspect had tried to escape.
The lawyer said on Tuesday that her client is in a better condition now and has been moved from the emergency room to the ward, where investigators have questioned him.
Investigators claim that five Georgian citizens planned to blow up a pipeline which supplies Armenia with Russian natural gas. They allegedly planned to destroy the pipeline at the place where it crosses the river Aragvi, near the village Saguramo.
Defense Minister Levan Izoria said Tuesday that people will soon learn more details about the case.
The hospitalized suspect's lawyer said that investigators suspect that three of the detainees are Wahabis, or adherents to a radical branch of Islam. But her client denies that this is the case.
Investigators have photos from Facebook pages of these three people, allegedly proving that they are supporters of ISIS. Some of them have photos on the background of the flag of the terror group also known as Islamic State.
"He told the investigator that he is an Orthodox Christian and doesn't have ties with any other religion," lawyer Chrelashvili explained, referring to his client's testimony.
Shed said that her client admitted guilt and that he planned the explosion near the occupied territory where there are barbed wires and fences installed, but he also says that he is the only organizer of the diversion.
"He said that the reason is that he hates Russia. He claims he was collecting a weapon for three years," the lawyer explained.