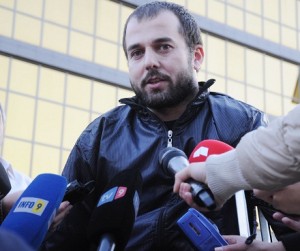 TBILISI, DFWatch–Georgia's State Security Service (SUS) acknowledged Friday that one of the suspects killed in a counterterrorism operation Nov 22 was Akhmed Chatayev.
Local media have speculated that the Chechnya-born ISIS member was among the dead.
Both Turkey and the United States have accused Chatayev of masterminding the Ataturk Airport bombings in Istanbul in 2016.
"As a result of investigative and forensic activities including DNA tests and fingerprint analysis carried out with the assistance of American colleagues, it was established that one of the killed individuals is Akhmed Chataev," SUS's press release reads.
Three suspected terrorists and a member of SUS special force were killed in a lengthy counterterrorism operation on Gabriel Salosi Street in the south of Tbilisi on November 21-22. Two suspects were killed in the crossfire when they were trying to break out from the besieged flat, while Chatayev blew himself up inside.
Immediately after the siege ended, various sources stated that Chatayev was one of the killed. However, SUS and other state agencies have continuously declined to inform the public about the details of the accident. Nor have they confirmed the identity of Chatayev. It seems puzzling because the 37-year old ISIS fighter was a double amputee, having lost his right arm and left foot on separate occasions. However, afterwards, SUS head Vakhtang Gomelauri conceded that Chatayev might have been killed in the operation.
The bodies of the two remaining suspects have not yet been identified. SUS spokeswoman Nino Giorgobiani flatly rejected information circulated by the media that Guram Adam Gumashvili, a former affiliate of Abu Omar al-Shishani's, was also killed in the shooting.
She also denied the presence of women and children, suspects' family members, on the scene, as well as rumors that two suspects managed to flee.
This is how the SUS press release describes the events:
"It is important to highlight that on the initial stage of the operation, Counterterrorism Department under the State Security Service of Georgia conducted negotiations with them during several hours in an effort to convince them to surrender. In line with the negotiations, with the purpose to protect the security of the residents, evacuation process of the residents of the building as well as its vicinities was being conducted. During the hours-long and intensive operation, their lives and health did not face any danger.
"The members of the criminal group rejected the offer of the law enforcers to surrender, opened fire from automatic weapons and threw hand grenades.
"The special operation was underway in a densely populated environment and all concrete steps were planned to ensure maximum safety. As a result of 20-hour special operation, 2 members of the criminal group were killed, whereas one individual, Akhmed Chataev who was staying in the flat, blew himself up," the release reads.