Dear Amb. Yalowitz,
I am writing to thank you for your compelling editorial in "Democracy and Freedom Watch" in which you rightly warn that my country is at a critical crossroads with upcoming parliamentary elections.  I too share your concern that free, fair and transparent elections are being threatened by an increasingly authoritarian rule by President Saakashvili who is moving to consolidate his power while at the same time undermining the peaceful and democratic opposition that is being rallied by Bidzina Ivanishvili.  Our hope is that during his meeting with Saakashvili next week, President Obama and other US leaders will clearly and firmly state that the Putin-like moves being engaged by President Saakashvili are of grave concern to the US.
These authoritarian moves by President Saakashvili have been confirmed by such independent observers as Human Rights Watch, whose 2012 World Report compared the protests for fair elections and an end to corruption in Georgia and President Saakashvili's use of excessive force in order to attempt to quell demonstrations in the streets to the protests of the Arab Spring.  These actions are regarded as a clear sign of the lack of human rights and rule of law present in my country, even more so as they are coupled with the fact that the rights of assembly and freedom of the media are likewise increasingly restricted. Indeed, the 2011 Freedom House report lists Georgia as Partially Free, which follows on its 2010 report that that "Georgia is not an electoral democracy".
The Economist's Economic Intelligence Unit has ranked Georgia 102nd out of 167 in its Democracy Index, with an overall score of 4.74/10, and a functioning of government score of 2.14/10.   Some surprising examples of countries that ranked above Georgia on the Democracy Index 2011 by the Economist Intelligence Unit are as follows, with a hybrid regime defined as one where the influence of political oppositional forces is very limited or impotent, and elections are manipulated and used as mechanism by which to retain or transfer power to chosen successors:
| | | |
| --- | --- | --- |
| Country | Rank | Category |
| Estonia | 34 | Flawed Democracy |
| Panama | 47 | Flawed Democracy |
| Romania | 59 | Flawed Democracy |
| Mongolia | 69 | Flawed Democracy |
| Ghana | 78 | Flawed Democracy |
| Ukraine | 79 | Flawed Democracy |
| Tunisia | 92 | Hybrid Regime |
| Venezuela | 97 | Hybrid Regime |
| Mozambique | 100 | Hybrid Regime |
| Georgia | 102 | Hybrid Regime |
| Russia | 112 | Authoritarian Regime |
I would also draw your attention to other measures of Georgia's declining position.  The Heritage Foundation's Freedom Index ranks Georgia 34th freest in the world with a score of 69.4/100, though notes that Georgia continues to score below the world average in freedom from corruption, and has continued to decline.  Georgia had attained status as a "mostly free" economy the past two years but fell back to the "moderately free" category this year.
The graphs below illustrate the contrast between Georgia and similarly structured hybrid governments, and Georgia and full democracies, comparing their freedom index scores as gathered by the Heritage Foundation.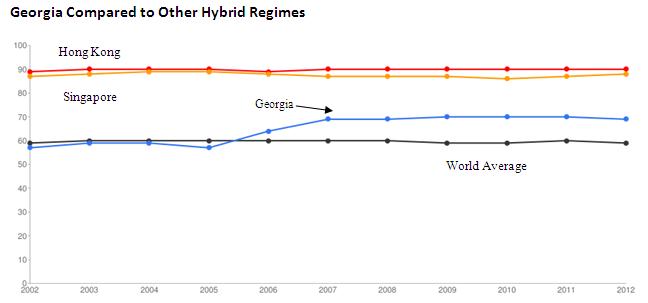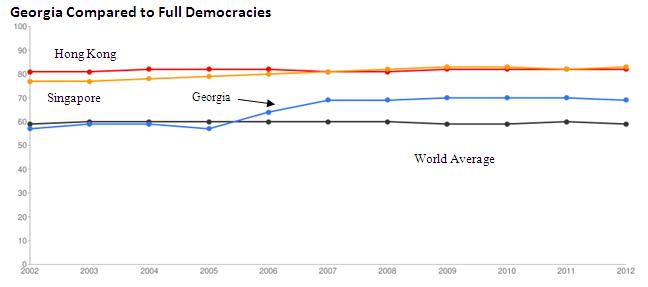 Finally, I would like to share my hope Ambassador Yalowitz that you will continue to advocate on behalf of Georgia and the United States' mutual interests, and provide your wise counsel to those shaping US policies toward Georgia.  This is a critical time of choice for my country that must choose between pursuing a democratic path or a path that – hiding being anti-Kremlin rhetoric – continues to erode our nation's liberties and denies our countrymen the right to freely and justly engage the democratic process.
Sincerely yours,
Ambassador
Tedo Japaridze
Former Minister of Foreign Affairs of Georgia