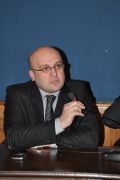 TBILISI, DFWatch – The government says that the political partners of billionaire Bidzina Ivanishvili won't have to return the money received from his companies for the last two months.
Pavle Kublashvili (pictured), chairman of the Parliament Judiciary Issues Committee claimed this December 29 at the special briefing in parliament.
The issue came to the public's attention after changes were made to the law about political associations of citizens – a set of new regulations approved by parliament on December 28 which has already come into force and seemed for a brief time to apply to actions committed before it came into force.
Adopting these regulations has been seen by experts and politicians alike as a violation of the Georgian constitution as well as international laws.
Several influential pressure groups in Tbilisi pleaded with the president to use his veto powers and block the law, but Mikheil Saakashvili did not follow their advice and signed it.
The new strict campaign finance rules will have most impact on four political parties that have partnered up with billionaire Bidzina Ivanishvili: the Free Democrats, the Republic Party, the Conservative Party and the People's Party. They have received 1.1 million lari from him in the last few months, funneled through his companies. Had the new rules been retroactively applied, they would have had to return the money or turn it over to the state.
But shortly after the law was made public on a government website called Matsne, a special statement was issued by the US embassy, which criticized the retroactive application of the new rules.
Then the government explained that the changes in the law about political associations of citizens do not have retroactive power and none of the political groups will be punished if they received donations legally before the law's coming into force.
Pavle Kublashvili states that there have been circulating different interpretations of the article in question and that political parties think that somebody is forcing them to return money legally received.
He explains that the new regulations do not have retroactive power. He says a political group will have responsibility only if it violated the law while receiving the donation and there was an attempt of the party or the subject to avoid the law.
Kublashvili claims that the aim of the new regulation is that the Chamber of Control will have the opportunity to check the legality of party funding during in the past.
He also says that the Chamber of Control will be entitled to use appropriate measures only in case it is discovered that regulations have been violated before the law was adopted – regulations regarding how political associations of citizens can receive donations.
Kublashvili hopes that after this statement, the new regulations won't be followed by different interpretations.